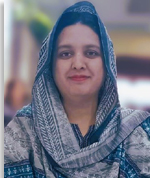 Being a biochemist, I started my professional career as Research Officer from Centre of Excellence in Molecular Biology (CEMB), University of the Punjab Lahore, back in April 2008. Now I am serving as Assistant Professor at the centre. In CEMB, I have experience of working in different research laboratories including Immunology Lab, HBV / HCV diagnostics lab, Medical Genetics lab and Plant Biotechnology Lab. Currently I am part of Plant Biotechnology research group and working on development of genetically engineered crops for betterment of farmers and improvement of country's economic condition.
I completed my M. Phil and PhD from CEMB during my job. The title of my PhD thesis was "Cas9-mediated gene knock down of Vacuolar Invertase (VInv) gene of Solanum tuberosum to reduce tuber sweetening during cold storage" which is among initial reports of development of any successful genetically engineered crop from Pakistan. This work has led the foundation of CRISPR/cas based genome editing of crops at CEMB. I under supervision of my mentors have optimized the protocols of various experiments used for this technology. During my PhD, I was honoured to receive the Mevlana Exchange Program. I visited Omer Halisdemir University, Nigde, Turkey to avail the prestigious scholarship.
I have administrative experience of being Assistant Superintendent in girls' hostel of University of the Punjab for a decade. I was also part of CEMB journal Club for around 11 years. Additionally, I was past and current member of a few committees at departmental and university level.
My volunteer contribution towards popularization of science includes foundation of a nonprofit organization Gulls' Association-Pakistan; being founding member of Islamic Young Scientists Academy (IYSA); Events coordinator at CEMB; and Events coordinator at congress of Molecular Biology (CMB). I also served as Executive Member and Vice President of National Academy of young scientists (NAYS), Pakistan. As part of all these organizations, I have organized more than 75 events (Conferences, awareness seminars, training workshops, and competitions) across Pakistan. I am among very few Pakistanis who have attended Global Young Scientists Summit (GYSS), an annual event held in Singapore.